Infield Maintenance

For over 50 years, more groundskeepers have trusted Turface® for superior performance.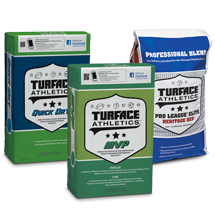 And you should too! We have the products and educational resources you need to help you keep your players safe and your infield performing the way it was intended.
Topdress the skinned areas of your ball diamond with Turface MVP® or Pro League® Elite™ for superior performance in all kinds of weather. And when the weather gets really wet, save the game with Turface Quick Dry®. Turface conditioners work on your infield to:
CREATE A SUPERIOR PLAYING SURFACE
Eliminate bad ball hops and twisted ankles caused by inconsistent playing surfaces. Add Turface MVP or Pro League® Elite™ to your skinned infield surfaces to help create the safe, consistently textured and workable playing surface your players will appreciate.
MANAGE INFIELD MOISTURE
Reduce dust, absorb water, and improve drainage by topdressing with Turface MVP or Pro League® Elite™. Prevent rainouts and absorb puddles at game time with Turface Quick Dry.
CREATE A PROFESSIONAL APPEARANCE
Take your field to the next level with Turface MVP or choose the colors, size and appearance most Major League groundskeepers use on their fields with Pro League® Elite™.
Featured Products
Pro League Elite

Give teams and coaches a safer, more playable field with the industry's most consistent conditioner.
Read More