Infield Conditioners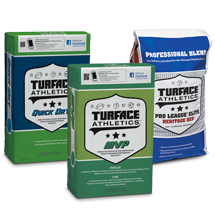 No other brand of infield conditioner is used more than Turface® for managing moisture, improving drainage, and keeping skinned surfaces safe and playable. Its porous, calcined clay construction absorbs more water and resists compaction better than competitive products. And because of its low bulk density, Turface covers more surface area than other infield conditioners. Learn more about The Turface Difference.
Choose the Turface conditioner that's right for you
Turface MVP® — No other infield conditioner has been used on more diamonds than Turface MVP. Its large particle size resists compaction and controls moisture. MVP is ideal for infield maintenance as well as construction.
Turface Pro League® Elite™ — Clean, uniform particles and color options like Natural, Red, Heritage Red and Champion Brown make this the conditioner of choice for most Major League groundskeepers. Choose Turface Pro League® Elite™ for unsurpassed performance and the perfect aesthetic. Start by learning more about the complete Pro League® Elite™ lineup. 
Turface Quick Dry® — The fine particle size of Turface Quick Dry makes it the perfect choice for eliminating puddles and standing water. And it works effectively without caking or hardening. There's a reason Quick Dry is called the game saver!
Find information on All Sport®, All Sport® Pro, and Game Saver® field conditioners.
Turface SlideMaster™ — Our newest product is Turface SlideMaster™ – an infield topdressing for the ultimate sliding surface. Click HERE for more information!