Infield Mixes
Experience the Ultimate Lineup of Infield Mixes!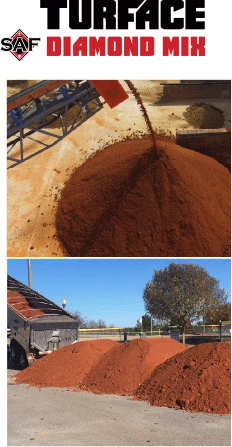 Introducing New Turface SAF Diamond Infield Mixes
Turface has long been known for having the #1 conditioner to make baseball and softball fields safe and playable.
And now you'll find the #1 line of infield mixes here as well, providing the ultimate home field advantage at facilities across the country.
After over 20 years of producing quality mixes, Turface and SAF have joined forces to bring you three top-of-the-line Infield Mixes. These mixes complement the Turface® Athletics lineup of infield clays, conditioners, and accessories designed to maximize sports field safety and performance.
Each of our infield mixes has specific properties to manage moisture, provide a consistent playing surface, and give athletes sure footing game after game. You can select the mix that's right for you… to meet the conditions and unique needs of your facilities.
Download the Infield Mixes Sales Sheet
Choose one of these premium Infield Mixes through Turface® Athletics.
All Infield Mix products are available in bulk trucks, 1,000 lb. and 2,000 lb. Super Sacks.

Choose this mix when you're looking for great value in a formula where daily watering delivers cleat-in, cleat-out performance.
Lowest price mix – a naturally occurring blend of sand, silt, and clay
Requires watering to achieve a firm, consistent surface
Competitively priced to provide great customer value
Consistent availability and delivery
Proven for many years as a reliable infield mix
Rich color provides great ball visibility and aesthetics for fields
Used at all levels of play
Screened at ¼"

Our most popular mix is machine blended to provide consistency year after year, batch after batch.
Specially screened and equipment-blended at our facility
Easy to install, maintain, and manage
Requires less water to achieve optimum moisture and playability in mix
Product consistency with each load, tested and proven
70% Sand Content
Balanced SCR (0.7 - 0.85)
Suitable for all levels of play

When you need custom-blended specifications, count on this formulated mix to meet your needs.
Requires effective water management to achieve firm surface and cleat-in / cleat-out effect
Specially screened material, equipment-blended at our facility
Typically a 60:20:20 mix with a balanced SCR (0.86 - 1.0)
Product consistency with each load, year over year
Rich red color provides great ball visibility and aesthetics for field
Your Home Field Advantage
For product questions, call 1-800-837-8062