Turf Conditioners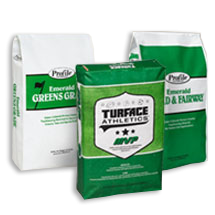 Keep your valuable natural grass fields in top condition by using the leading conditioners in the industry! Whether your field is built on native soil or sand, Turface® Athletics offers conditioners that improve footing, enhance drainage and hold just the right amount of air, water and nutrients at the root zone where your grass needs it the most! In trials conducted at The Ohio State University Horticulture and Crop Science Department, these conditioners were proven effective at preventing turf damage and speeding recovery of natural grass fields.
Select the best conditioner for your field
Field & Fairway™ – Designed specifically for use in native soil sports fields, this medium sized particle is ideal for incorporation, topdressing, infilling aeration holes, or dumping and raking on problem areas. It's available in natural and emerald green color to disguise worn areas in sports turf.
Greens Grade™ – The smaller particle size of Greens Grade is ideal for sand-based root zones. Incorporate into sand-base soils, infill aeration holes, or topdress using natural- or emerald-colored conditioner to improve footing, disguise worn areas, absorb moisture and improve the overall health of your turf.
Turface MVP® – The large particle size of Turface MVP makes it an excellent conditioner for native soil sports turf. Available in a natural color, MVP can be used in construction, renovation and topdressing applications for turf, in addition to its common use on infields.