Rainout Prevention

Prevent rain outs and reduce field damage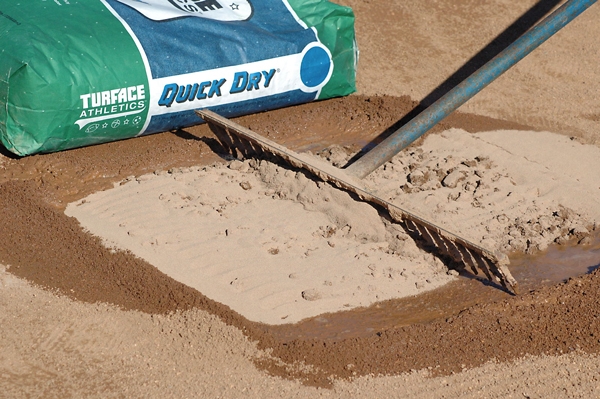 Preventing rain outs and reducing field damage during wet playing conditions are two key challenges faced by groundskeepers.
Fortunately, Turface® conditioners are designed to help on both accounts. Proper maintenance of skinned areas and sports turf will improve drainage, absorption and footing for superior performance and minimal damage even in wet conditions. On those occasions where puddling does occur, Turface offers the conditioners you need to rescue your field and quickly resume play.
SKINNED AREA PREVENTION
Use Turface Pro League® Elite™ or MVP® as part of your infield maintenance program to prepare your skinned areas for rainy conditions. See our Infield Maintenance page for more details.
SKINNED AREA RESCUE
Dump and rake Turface Quick Dry® into standing puddles to soak up water and quickly resume play on skinned playing surfaces.
SPORTS TURF PREVENTION
Protect your sports turf investment with Field & Fairway™ or Field & Fairway™ Emerald. These conditioners are proven to reduce damage caused by wet playing conditions and speed recovery after damage has occurred. See our Turf Maintenance page for more details.
SPORTS TURF RESCUE
Dump and rake Field & Fairway™ or Field & Fairway™ Emerald into native sports turf to quickly eliminate standing water and slick muddy conditions.
Featured Products
Field & Fairway
Profile Field & Fairway is the ideal sports turf conditioner for native soil construction and maintenance.
Read More
Turface Quick Dry

The fine particles of Turface® Quick Dry® make it the perfect choice for quickly clearing up puddles and mud on skinned infields.
Read More