Mound Clay
Build Your Mound and Plate Right
No two areas of the diamond receive more abuse and constant wear than the pitcher's mound and batter's/catcher's boxes. Make sure they are built and properly maintained with Turface® Professional Mound Clay®, MarMound All-Purpose Clay® and 5-Star™ Packing Clay.
Professional Mound Clay is finely engineered to the highest specifications:
100%, high-density pure virgin clay delivers long-lasting performance
Shredded material is ideal for shaping mounds
Pliable construction makes it easy to mold into just the right form
Red is durable and possesses a high level of plasticity; molds together easily
Gumbo Gray possesses a high level of tackiness; enhances its bonding strength
MarMound All-Purpose Clay outperforms other products in its class:
Sand/clay mixture is an affordable, easy-to-use alternative packing clay
Excellent additive to soft, sandy areas of the infield to firm them up for safer footing and consistent ball hops
5-Star™ Packing Clay delivers performance and value: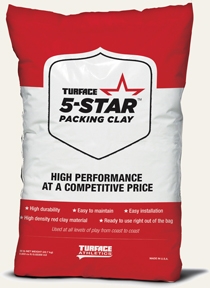 High density – red clay material with a high silt and clay content for strong bonding during installation
Ready to use – just open the bag, pour, and pack
Durable – stands up to high levels of on going wear, even with larger athletes
Versatile – used at all levels of play and from coast to coast
Available in bulk truckloads; 50-lb. bags or 2,000-lb. super sacks
Click here for our product brochure featuring our Professional Clays and Blocks!
Check out this two-minute time lapse of a mound construction – they make it look so easy!
Choose the solution that works best for your performance needs and budget:
Professional Mound Clay

MarMound All-Purpose Clay
5-Star™ Packing Clay

A premier, 100% virgin clay featuring high density for superior durability and unmatched wear resistance; also offers easy pliability and shaping on mounds or around home plate. 

Preferred by professional and college teams
Available as a shredded clay or in pre-formed blocks
Easy installation – ready right out of the bag 
High level of durability in a range of climates, to reduce wear across a variety of fields 

An affordable sand/clay mixture for mound and plate construction and repair, or to amend sandy infields. Requires lower maintenance than high-clay products for easier management.

Helps maintain moisture and firm up soft, sandy areas for safe footing and consistent play
Easy to use material for fast installation and smooth shaping
Saves time and reduces the amount of field care needed
Outperforms other clays in its class 
Great for multi-plexes – holds up over a series of games and fields

A reliable, high-density mound and plate clay that's easy to install and maintain – at a competitive price. 

Clay-silt mixture bonds firmly and quickly to help streamline installation
Highly durable for long-lasting performance and wear resistance 
A good fit across different geographies and climates, and suitable for all levels of play