Mound & Box Packing Clays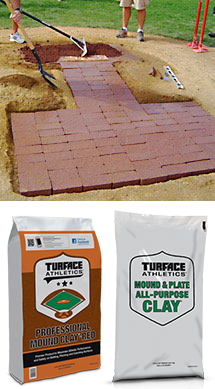 No two areas of the diamond receive more abuse and constant wear than the pitcher's mound and around the plate. Make sure they are built and maintained properly with the best, virgin packing clays in the industry. Turface® clays provide a superior degree of plasticity and offer unmatched footing and wear resistance.
MoundMaster® Blocks – These hydraulically packed blocks of clay create the perfect foundation around home plate in the batter's and catcher's boxes. They come out of the bag pliable and ready to work.
Turface Professional Mound Clay® – The same virgin clay used in MoundMaster Blocks is offered in a finely shredded bagged clay that is great for easy shaping on the mound. It also works well for filling in holes dug out by cleats as part of an ongoing plate and mound maintenance routine.
Turface Mound & Plate All-Purpose Clay® – A sand/clay mixture that is an affordable alternative packing clay for construction and repair of mound and plate areas. It is also an excellent additive to soft, sandy areas of the infield to firm them up for safer footing and consistent ball hops.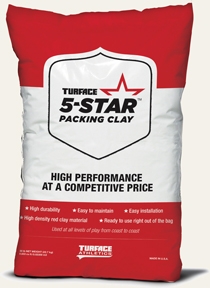 Turface 5-Star™ Packing Clay – A clay-silt mixture that bonds firmly and quickly to help streamline installation. It is a reliable, high-density mound and plate clay that is highly durable for long-lasting performance and wear resistance.
Click here for our product brochure featuring our Professional Clays and Blocks!
Check out this two-minute time lapse of a mound construction – they make it look so easy!