How To Edge the Infield Turf
Another important step in proper maintenance of the infield is edging. Not only is a good clean edge important in maintaining accurate base lines, but also it makes your field look great. Edging can be done with string and a gas powered edger, a spade, a hand pushed sod cutter or a diamond blade. Once this is done, maintenance is easy. Follow these steps: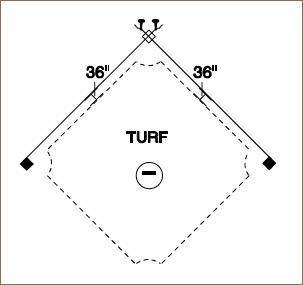 Run a string FROM TO BACK OF THE 1ST AND 3RD BASE BAG THROUGH THE MIDDLE OF SECOND BASE.
Measure 36 inches from string toward the infield grass. Place pegs at each end of infield grass and move string over to these pegs. This line represents the edge of your infield grass.
Cut along edge.
Repeat same steps on the remaining base lines.
See diagram.