Turface Athletics™ Presents 2014 Field Maintenance, Scholarship Awards
February 2, 2015
BUFFALO GROVE Ill. (February 2, 2015) — Turface Athletics™ presented its 2014 Field Maintenance and Scholarship awards at the American Baseball Coaches Association (ABCA) annual luncheon Jan. 4., held in Orlando, Florida.
The maintenance awards recognize outstanding field maintenance at the high school and college levels, while the scholarships provide assistance to two schools in need of field improvements.
Worcester State University was selected as the recipient of the ABCA/Turface Athletics Field Maintenance Award for the college division, while Walton-Verona High School in Verona, Kentucky, was again the high school division winner, having won it twice before. Accepting on behalf of the schools at the luncheon were Worcester State head coach Dr. Dirk Baker, and Walton-Verona head coach Kevin McIntyre.
"It is very important to me, as well as the team to maintain and play on one of the finest ballparks in all of New England," Baker said. "It is nice to know that all of our hard work has paid off these past few years with all the improvements we have made."
As part of the award package, Baker and McIntyre each received 1 ton of Turface MVP® infield conditioner and $400 to be spent on maintenance equipment.
"We look forward to the upcoming season and will further make improvements on the field with our honorable awards we were given," Baker said.
The Worcester State Lancers play the team's home games at Kevin Lyons Baseball Diamond at Rockwood Park in Worcester, Massachusetts.
Columbus Catholic High School in Waterloo, Iowa, and Presbyterian College in Clinton, South Carolina, received the Field Maintenance Scholarships in the high school and college divisions, respectively. The two schools will each receive three tons of Turface® and a total of $500 over the next two years for use on maintenance equipment and supplies.
"Turface Athletics has a long history of educating sports field managers, coaches and volunteers to keep fields of any size safe and playable for the athletes using them," said Jeff Langner, brand manager for Turface Athletics. "The annual awards help showcase and congratulate fields that are maintained at the highest level, while providing assistance for fields that may have a strong support system in place, but lack the necessary resources to make field improvements."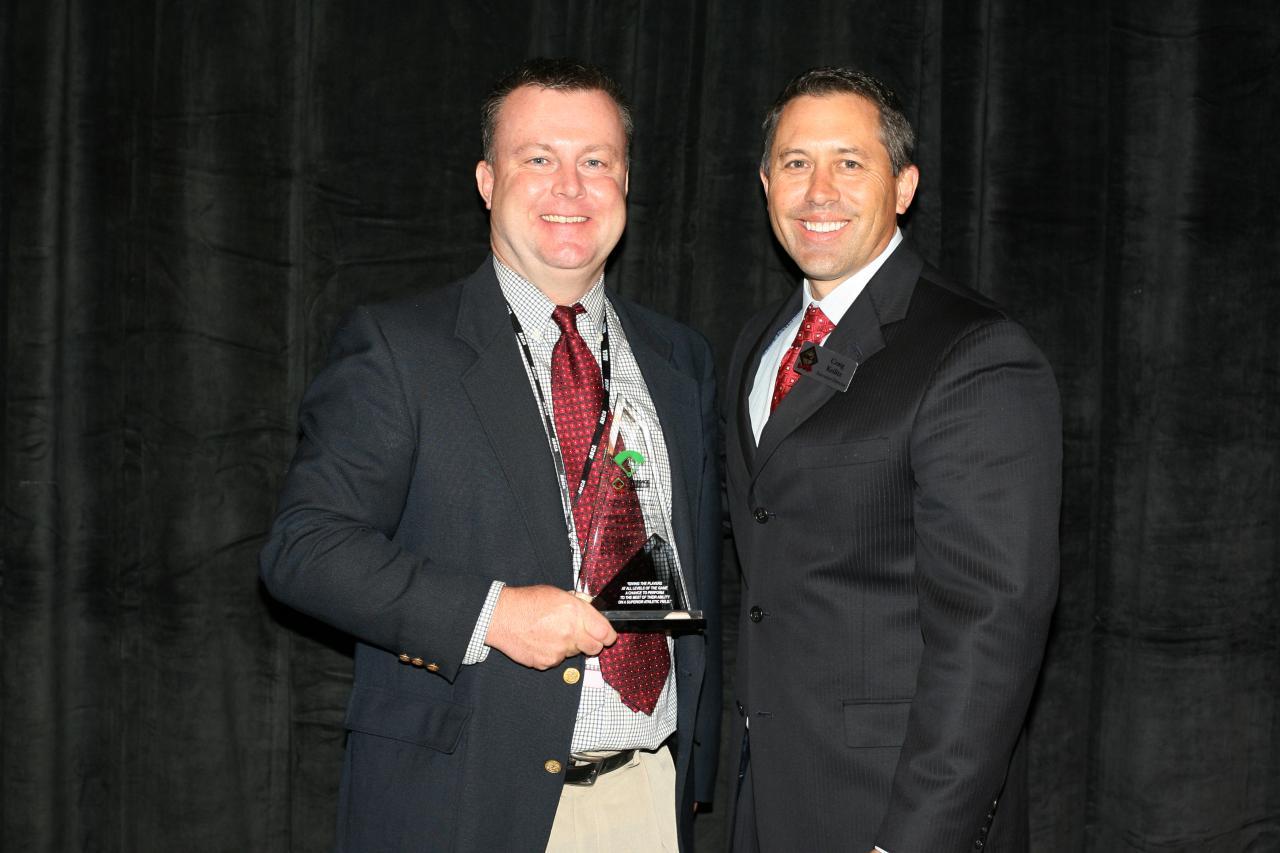 Dr. Dirk Baker (right) with ABCA Executive Director Craig Keilitz. Photo courtesy of Lou Pavlovich.