Turface Athletics™ Names 2011 Field Award Winners
February 3, 2012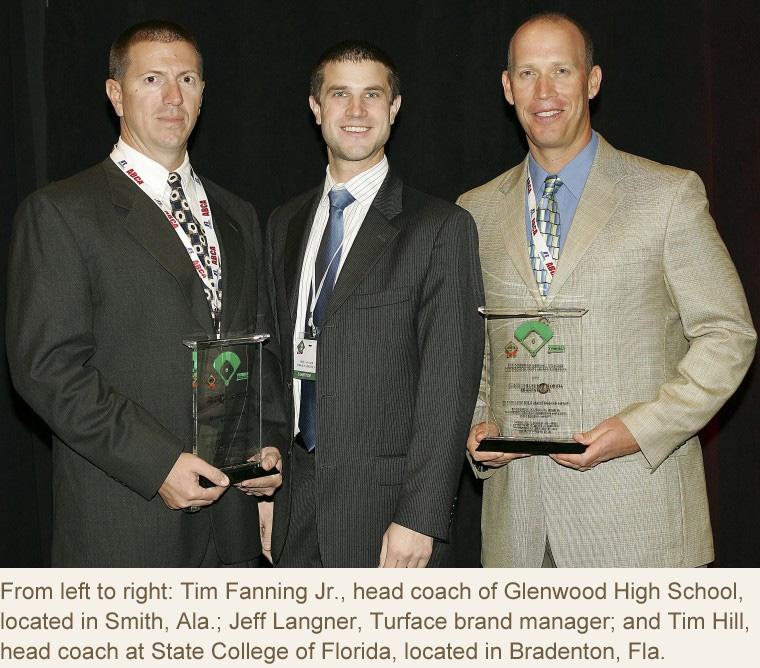 BUFFALO GROVE, Ill. (February 1, 2012) — Turface Athletics™ recently named its 2011 Field Maintenance Award and Scholarship winners. Recipients were honored as part of the American Baseball Coaches Association's (ABCA) annual convention in Anaheim, Calif.
The maintenance awards recognize outstanding field maintenance at the high school and college levels, while the scholarships provide assistance to two schools in need of field improvements.
Honored with Field Maintenance Awards at the luncheon were Glenwood High School in Smith, Ala., and State College of Florida in Bradenton, Fla. On hand to accept the awards were the head coaches of the two schools, Tim Fanning Jr. (Glenwood High School), and Tim Hill (State College of Florida).
"It is an honor for our players, parents and program to be recognized by the ABCA and Turface Athletics," Fanning said. "Our coaches, players and parents spend a tremendous amount of time and effort to ensure our facility is the best it can possibly be. We feel it is an essential part of not only performance, but a representation of our expectations as a program and school."
For their successful efforts in field maintenance, the schools will each receive a free pallet of Turface® and $400 for future field maintenance efforts.
Iowa Wesleyan College in Mt. Pleasant, Iowa, and Ashland High School in Ashland, Ohio, were the recipients of the 2011 Field Maintenance Scholarship Awards. The schools will each receive three tons of Turface and a total of $500 over the next two years for use on maintenance equipment and supplies.
"We are proud of the opportunity to help all of these schools enhance the safety and playability of their fields," said Jeff Langner, Turface brand manager. "In the cases of the scholarships especially, you have programs where there is a great desire to improve field quality, but the schools lack the resources to make it happen. That's where we can play an important role."
Turface has been partnering with ABCA for more than a decade, selecting award winners from dozens of applications annually in each category.
"Anytime you receive national recognition, it validates all the hard work by all those involved," Fanning said.
For more information on field maintenance awards and scholarships, visit www.turface.com/abca. For product information and helpful tips for maintaining your field, visit www.turface.com.
About PROFILE Products LLC
Based in Buffalo Grove, Ill., PROFILE Products LLC offers environmentally sound, site-specific solutions including soil modification, erosion control and plant establishment. As the leading manufacturer of hydraulically-applied mulch and additives, as well as ceramic conditioners to amend soil, Profile offers on-site solutions and consultation to architects, land planners, contractors, developers and municipalities. Their team of agronomists, engineers and industry experts is supported through a worldwide network of experienced distributors. Profile … Solutions for your Environment™. For more information call (800) 207-6457, email info@profileproducts.com or visit www.profileproducts.com.