From the Big Leagues to Yours – Introducing Turface Pro League Champion Brown
Pro League® Champion Brown™ – the classically colored infield conditioner once made exclusively for the Major Leagues – is now available for your ball field!
CHAMPION BROWN

The rich "deep brown" color of this infield conditioner:
Provides excellent ball visibility
Offers appealing dark brown color whether the infield is wet or dry
Effectively complements many darker infield mixes
Can be pre-blended into an infield mix or used as a topdressing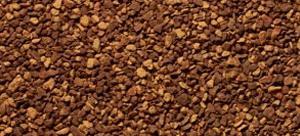 #1 CONDITIONER FOR SAFE & PLAYABLE FIELDS
Download a brochure that details why more groundskeepers rely on Turface® Pro League® conditioners to give ballplayers at every level the opportunity to safely compete. It starts with an exclusive manufacturing process that combines superior particle performance and an unmatched selection of distinctive, long lasting colors.
Smaller, uniform particles ensure a smooth, professional playing surface, minimizing potentially dangerous bad hops and providing ideal sliding conditions.
Moisture-absorbing properties of the particles improve footing and help to prevent rainouts.
Color choices enhance ball visibility and ballpark aesthetics, providing a championship look to any field.